---
The Opportunity
Explore the feasibility and effectiveness of Transition Design in practice as well as its potential relationship with UX.

The Outcome:
A research paper contributing new knowledge to the fields of TD and UX. Prototyped an online website (Urbanist) that provides actionable solutions, education and tools to increase civic engagement in the face of biodiversity loss, as well as a space to imagine positive vision of the future collectively.

Sector:
Sustainable Cities
My Role:
Transition Designer, UX Designer, Academic Researcher
When:
2020
Background
Transition Design is an emerging, largely theoretical and evolving design 'approach' that aspires to enable practitioners to better address systemic problems and to facilitate societal transition towards more sustainable futures. My research set out to explore whether TD could be progressed by incorporating elements of UX and whether a practical application of TD could help people overcome social inertia in the face of anthropogenic Climate Change. In addition, as there are very few practical application of TD, I also aimed to explore the feasibility and effectiveness of this emerging approach in practice. I prototyped 'Urbanist' a website with the potential to facilitate local action to improve biodiversity levels, and by doing so, challenging inertia.
Read a detailed account here.
Download the full version of the map here.
My Transition Design approach in images

Research Analysis: Zooming in and zooming out
I discovered limitations of the TD approach and explored whether UXD methodologies could be applied to enhance it.
While TD is strong on understanding the big picture and in identifying all the stakeholders, I found it poor in identifying the specifics of stakeholder needs, behaviours and attitudes. Furthermore, there are very few methods available to evaluate the effectiveness of an intervention and it offers very little in the way of guidance or prescribed steps to get from research to a working model.
I believe that TD can be enhanced by incorporating a selection of UXD research methodologies. I conducted a survey, incorporated an adaption of Lean UX, developed personas, prototyped and conducted remote usability testing.

Incorporating UXD research methodologies

Survey

Having conducted a survey with 84 strategically sourced participants I interpreted results using thematic analysis and discussed various potential solutions, including 'Commoning as an Approach' and 'A Life-Centred Approach to Re-wilding The City'.


Commoning as an Approach
Data reveals that the majority of participants thought Government Bodies are most responsible for improving and maintaining biodiversity levels in their local area. As it is unfeasible for Government bodies to maintain all public space, this suggests a contradiction or a confusion about who is responsible.

I propose Commoning as an approach that positions local citizens as key players in the community and instills a sense of belonging to, ownership of and responsibility for public space. Public space designed by and for the local community could have the potential to better meet the mental and physical needs of the local community.

A Life-Centred Approach to Re-wilding The CityData suggests that aesthetic preferences are a main barrier to improving biodiversity levels, with many participants stating they prefer manicured spaces.

Taking a 'life-centred approach' to rewilding the city could help to change stakeholders' perceptions and find the balance between the needs of all species. Humans do have a need for manicured spaces; we need able to move around and feel safe, but other species have a need for wilder spaces. The task then is the find the correct balance between wild and cultivation.




Incorporating an Adaption of Lean UX Principles and Practices
Socio-technical transitions are slow and complex. So, it can be argued that Lean cycles, which have been designed to address market speed are too short to imagine, influence and evaluate transition. However, as an outcome-focused process, I believe that incorporating an adaption of Lean UX principles and practices can advance the project of Transition Design.

In my view, one of the main limitations of Transition Design is its lack of methods developed for evaluating interventions. This means it can be difficult to determine whether an intervention is actually helping to reach the desired vision. Given its strong focus on measuring success and failure, a suitable adaption of Lean UX could improve this. Applying the Lean UX template, I was able to transform assumptions articulated as part of the 'Theory of Change' exercise into testable form.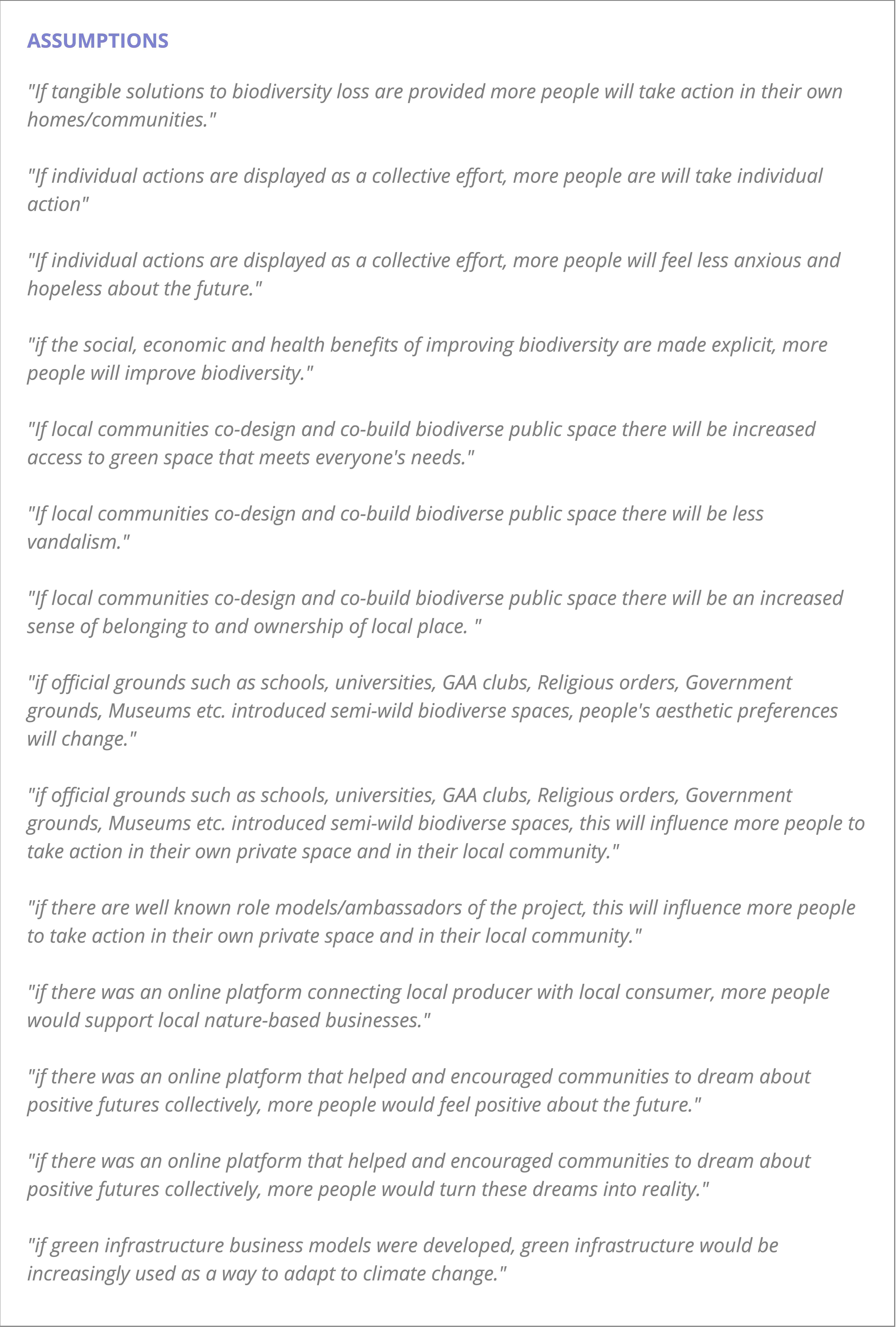 Assumptions articulated as part of my Theory of Change
I developed a list of 'measures of success' such as the number of people engaging with the platform, local biodiversity levels, noise levels, obesity levels and levels of vandalism. Then, using with the Lean UX hypotheses template, I turned my assumptions into testable form.
Personas

I developed five personas to gain a detailed understanding into stakeholder behaviours, attitudes, needs and goals. The process enabled me to design with empathy, generate new ideas and determine the functionality of the intervention in a way that satisfies diverse stakeholders.
Prototyping

I found that TD offers little practical guidance to get from research to a tangible intervention.
I believe that Prototyping, an integral part of UXD, can be integrated to help overcome this. Prototyping is an effective way to test ideas, iterate and make improvements. I used prototyping primarily as a way to gather usability feedback on low and medium-fidelity prototypes. I also found it a helpful process to visualise ideas and compare different structures, information architecture and content design.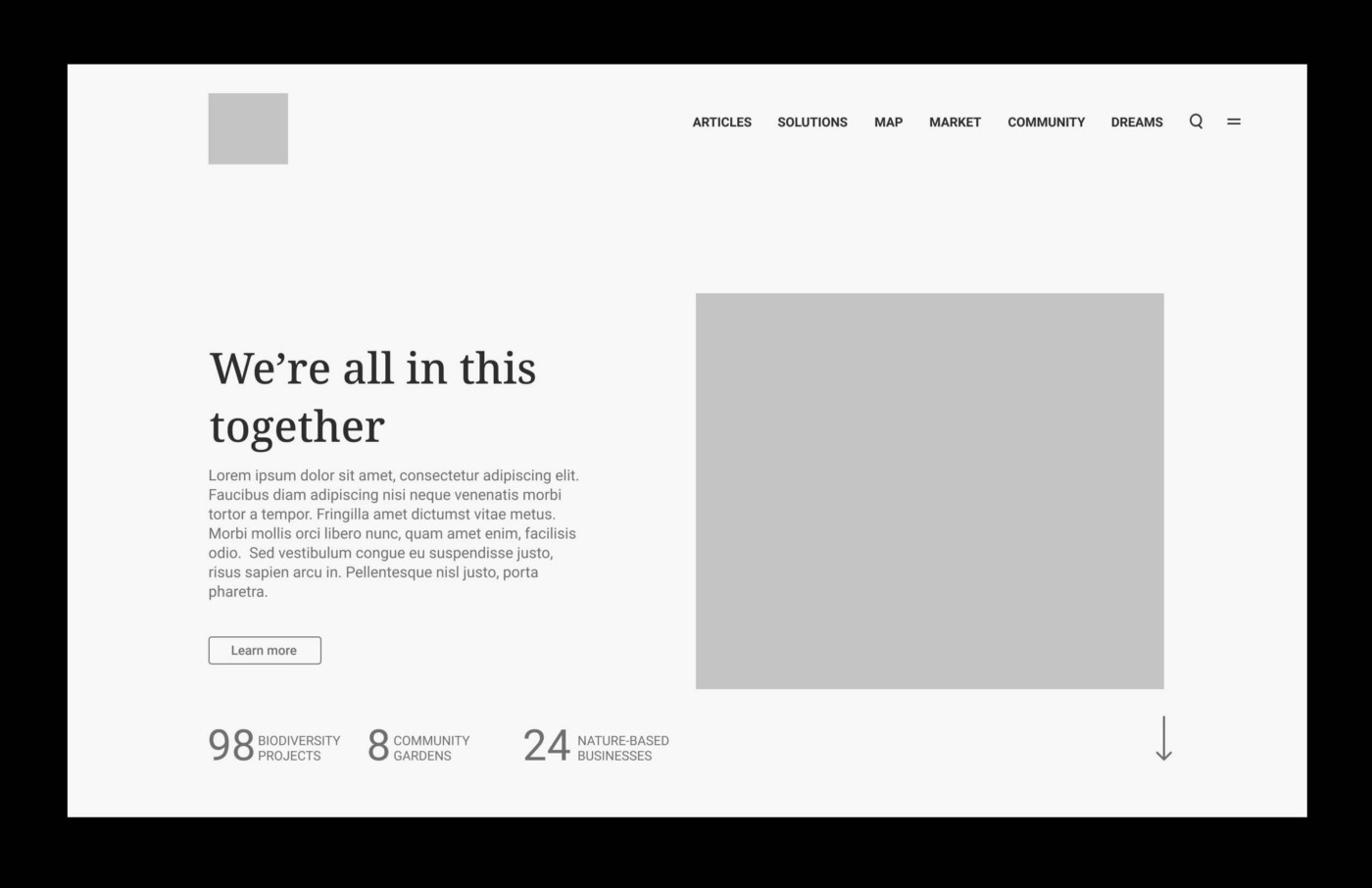 Low-Fidelity Prototype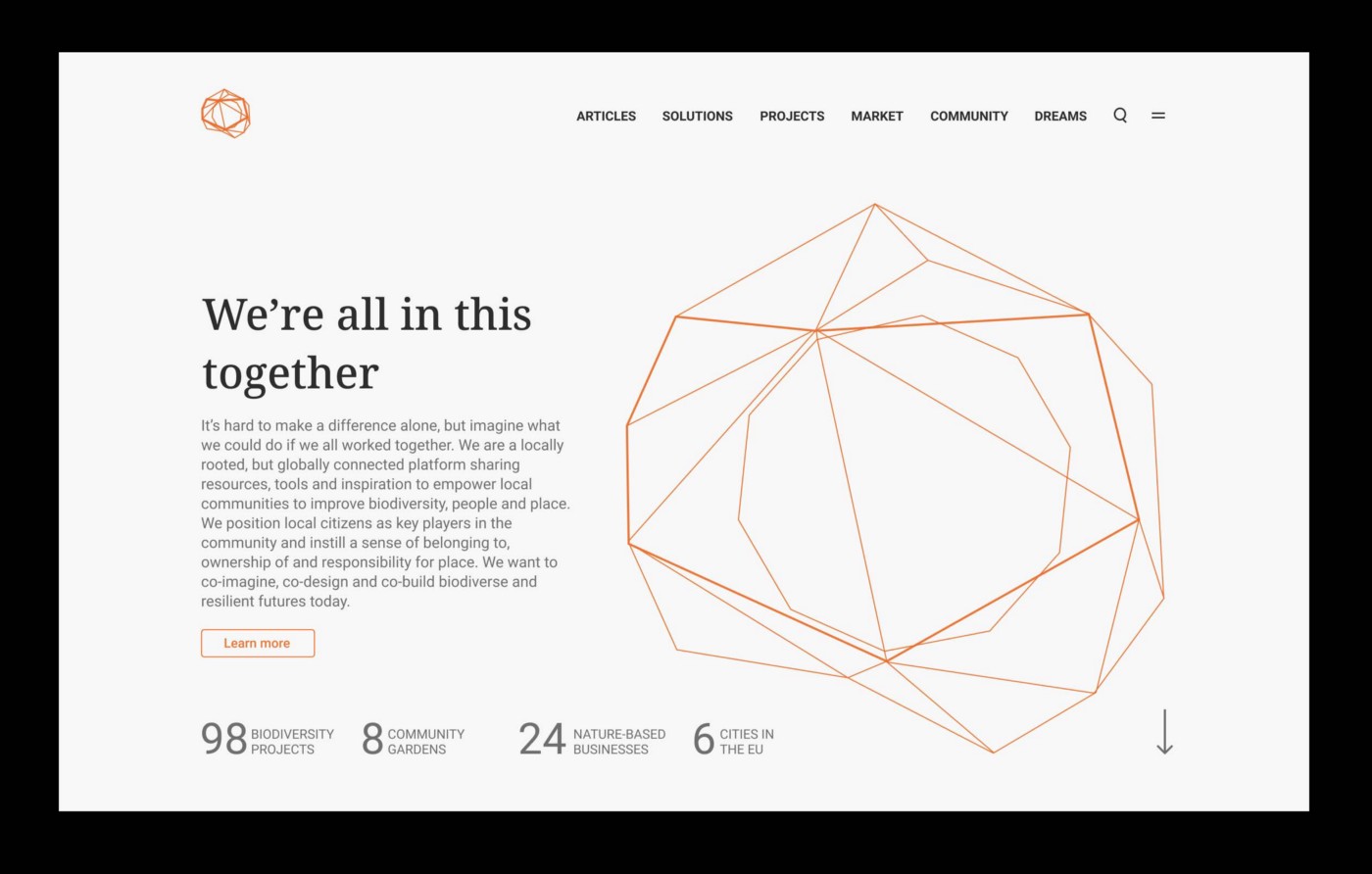 Medium-Fidelity Prototype
Remote Usability Testing helped me to uncover usability problems and opportunities for improvement and refinement, critically before spending lots of time and effort designing high-fidelity prototypes.

While the data collected was useful in terms of evaluating the usability of my designed intervention, it did not provide the data necessary to evaluate whether the intervention is contributing to transition. Hypotheses, as discussed previously, will provide this data and will be tested during the course of the transition.
Potentially Negative Feedback Loops
I developed a new method called "Potentially Negative Feedback Loops', which could be useful for other TD practitioners. Taking a systems view, this exercise asks practitioners to take responsibility for the potential negative consequences of their interventions.


Starting at the future vision in which the problem has been solved, I articulated various 'new realities' and considered their potential negative feedbacks on a specific scale.




Impact

Transition Design is an emerging and still largely theoretical design discipline. This research engages with it, critiques it, explore its limitations, and in doing so further develops it.


While TD is strong on the understanding the big picture, identifying all the stakeholders and envisioning alternative futures, I found in practice that it can be progressed by incorporating elements of UX – a suitable adaption of Lean UX, personas, and prototyping.

I also developed a new method called 'Potentially Negative Feedback Loops' which might prove useful for other Transition Designers. It helps practitioners to anticipate the potentially negative consequences of their intervention so that appropriate measures to mitigate these can be implemented in advance.

Finally, I developed a working prototype called Urbanist. It is an online platform that provides actionable solutions, education and tools to increase civic engagement in the face of biodiversity loss, and a space to imagine positive visions of a biodiverse future collectively.