DESIGNING FOR TRANSITION


---
The Result:
Urbanist - an online platform that provides actionable solutions, education and tools to increase civic engagement in the face of biodiversity loss, and a space to imagine positive visions of a biodiverse future collectively.
An academic research paper contributing new knowledge in TD and UXD.
Sector:
Sustainable Cities
My Role:
Transition Designer, UX Designer, Academic Researcher
When:
2020
'Designing for Transition: Exploring Transition Design and User Experience Design in an Era of Ecological Crisis' is a practical application of Transition Design and UX Design as well as an academic research paper.
One of the most baffling phenomena in our current era is the lack of serious action in the face of some of our most pressing crises, for example, climate change, biodiversity loss. Reactions of anxiety, inertia, pessimism and feelings of helplessness are common but often do not result in action. The research examines these common responses, interrogate their bases and attempt to design a solution that can help combat anxiety and inertia and mobilise communities to improve biodiversity levels.
Furthermoe, by exploring the possibilities of TD which is emerging and largely theoretical, as well as it's potential relationship with UX, this research makes contributions to knowledge in both design disciplines.
Read a detiled account here
Mapping Wicked Problems

Transition Design is systems oriented and aims to develop a holistic understanding of the nature of complex problems; their interconnections and interdependencies.
I mapped the problem of social inertia considering the social, environmental, political, technological and economic issues that underpin it. I distinguished between root causes, secondary root causes and consequences in an attempt to locate optimal places to intervene.
Download the full map here.





TD asks practitioners to develop everyday, place-based and sustainable long-term visions. By doing so, TD aims to address global problems within the context of everyday life and in ways that are adapted to and rooted in local place. It also aims finds news ways to satisfy people's needs that currently contribute to the problem. I strategically selected the following threories 'Domains of Everyday Life', 'Cosmopolitan Localism' and 'Max-Neef Theory of Needs and Satisfiers' to underpin the following methods: 'Future Visioning' 'Snapshots from 2050', 'Backcasting'. I decided to create a vision of a biodiverse future in Marino, Dublin; my own local area.

Through the lens of everyday lifestyles, I considered a variety of interventions in Marino, that not only improve biodiversity, but quality of life for all. Transporting myself to a future without limits encouraged me to dream boldly and to understand the future as plural, with many possibilities lying ahead.







Having, articulated a place-based and lifestyle-based vision, I considered how interventions might be applied across multiple scales, from the individual to the international. For exmaple, I imagined how knowledge would be shared on all scales. There would by strong networks between citizens and local authorities, there would be regional and national gatherings, and each year EU cities would enter into a biodiversity partnership.

I developed my vision further in 'Snapshots from 2050' by synthesising previous research, zooming in on a specific scale, and focusing attention on needs and satisfiers.



Backcasting
Backcasting provided a means to connect my long-term vision to tangible interventions in the present day.


I wrote three contextual descriptions which guided the backcasting process; the end vision, present day cultural beliefs and attitudes (informed by the problem map), and a vision for the midpoint of the transition (informed by both the end vision and the present day.) During this process, I paid particular attention to how worsening climate change and other societal challenges might impact the local community over the next 30 years, so, the vision for 2050 was revised accordingly. For example, the IPCC predicts that sea levels will rise up to at least 1 meter by 2100. Marino, being a low-lying area could be subject to flooding over the next 30 years.

I regarded 2035 as a turning point in the transition toward urban biodiversity. Interventions mapped from 2020 to 2035 are primarily related to improving infrastructure, while interventions mapped from 2035 are primarily related to improving quality of life. Placing interventions along a pathway forced me to consider how one intervention might be a catalyst for another.

'Backcasting' was an interesting way to think about the problem from a different perspective, on both macro and micro levels. It made me compare my ideal vision of 2050 to the current reality and a possible path to get there. Starting from the ideal point of view without any constraint and working backwards gave me a different perspective on the current challenges that we are facing, such as the worsening climate change and population growth and how they will effect local communities in specific ways. This helped me to discover and stay open to many potential interventions. Rather than problem solving solely for the present day, this process also forced me to problem solve for likely problems in the future.

The template 'Projects in the Present, Informed by the Future' helped me to synthesis research and generate ideas and consider feasibility and impact.

After detailing various possibile interventions, I selected one: an online platform that provides actionable solutions, education and tools to increase civic engagement in the face of biodiversity loss and a space to imagine positive visions of a biodiverse future collectively.

TD recognises that no single intervention has the potential to shift the entire system. Therefore, I decided to design my chosen intervention for a hypotetical collaboration with the 'All Ireland Pollinator Plan'. It aims to build on their ongoing work to addresses pollinator decline on the island of Ireland













Completing a Theory of Change allowed me to visualise how I expect transition toward my desired future to unfold.

I first listed the everyday activities that my intervention provides, such as taking practical action to improve biodiversity and visioning alternative futures collaboratively. Then I listed short term and long term outputs such as an online platform and a collaboration with the All Ireland Pollinator Plan. Next, heavily influenced by my 2050 vision, I articulated long term outcomes. I then worked backwards showing a logical relationship or 'transition pathway' between medium term and short term outcomes. I also mapped the relationship between activities, outputs and outcomes.

I also articulated a number of assumptions. For example, if local communities co-design and co-build biodiverse public space there will be increased access to green space that meets everyone's needs. A Theory of Change is essentially based upon assumptions, which need to be met to successfully reach the long term outcomes. So, it is important to test these. Using an adaption of Lean UX, I transformed assumption into testable form, which I discuss in detail below.
I discovered limitations of the TD approach and explored whether UXD methodologies could be applied to enhance TD.
While TD is strong on understanding the big picture and in identifying all the stakeholders, I found it poor in identifying the specifics of stakeholder needs, behaviours and attitudes. Furthermore, there are very few methods available to evaluate the effectiveness of an intervention and it offers very little in the way of guidance or prescribed steps to get from research to a working model.

I believe that TD can be enhanced by incorporating a selection of UXD research methodologies. I conducted a survey, incorporated an adaption of Lean UX, developed personas, prototyped and conducted remote usability testing.










Survey

I conducted a survey with 84 strategically sourced participants. The results enabled me to identify and analyse key stakeholder groups' behaviours, preferences and differences.

I interpreted it and drew conclusions using thematic analysis and discussed various potential solutions, including 'Commoning as an Approach' and 'A Life-Centred Approach to Re-wilding The City'.


Commoning as an Approach
Data reveals that the majority of participants thought Government Bodies are most responsible for improving and maintaining biodiversity levels in their local area. As it is unfeasible for Government bodies to maintain all public space, this suggests a contradiction or a confusion about who is responsible.

I propose Commoning as an approach that positions local citizens as key players in the community and instills a sense of belonging to, ownership of and responsibility for public space. Public space designed by and for the local community could have the potential to better meet the mental and physical needs of the local community.

'A Life-Centred Approach to Re-wilding The City'Data suggests that aesthetic preferences are a main barrier to improving biodiversity levels, with many participants stating they prefer manicured spaces.

Taking a 'life-centred approach' to rewilding the city could help to change stakeholders' perceptions and find the balance between the needs of all species. Humans do have a need for manicured spaces; we need able to move around and feel safe, but other species have a need for wilder spaces. The task then is the find the correct balance between wild and cultivation.











Incorporating an Adaption of Lean UX Principles and Practices
Socio-technical transitions are slow and complex. So, it can be argued that Lean cycles, which have been designed to address market speed are too short to imagine, influence and evaluate transition. However, as an outcome-focused process, I believe that incorporating an adaption of Lean UX principles and practices can advance the project of Transition Design.

In my view, one of the main limitations of Transition Design is its lack of methods developed for evaluating interventions. This means it can be difficult to determine whether an intervention is actually helping to reach the desired vision. Given its strong focus on measuring success and failure, a suitable adaption of Lean UX could improve this. Applying the Lean UX template, I was able to transform assumptions articulated as part of the 'Theory of Change' exercise into testable form.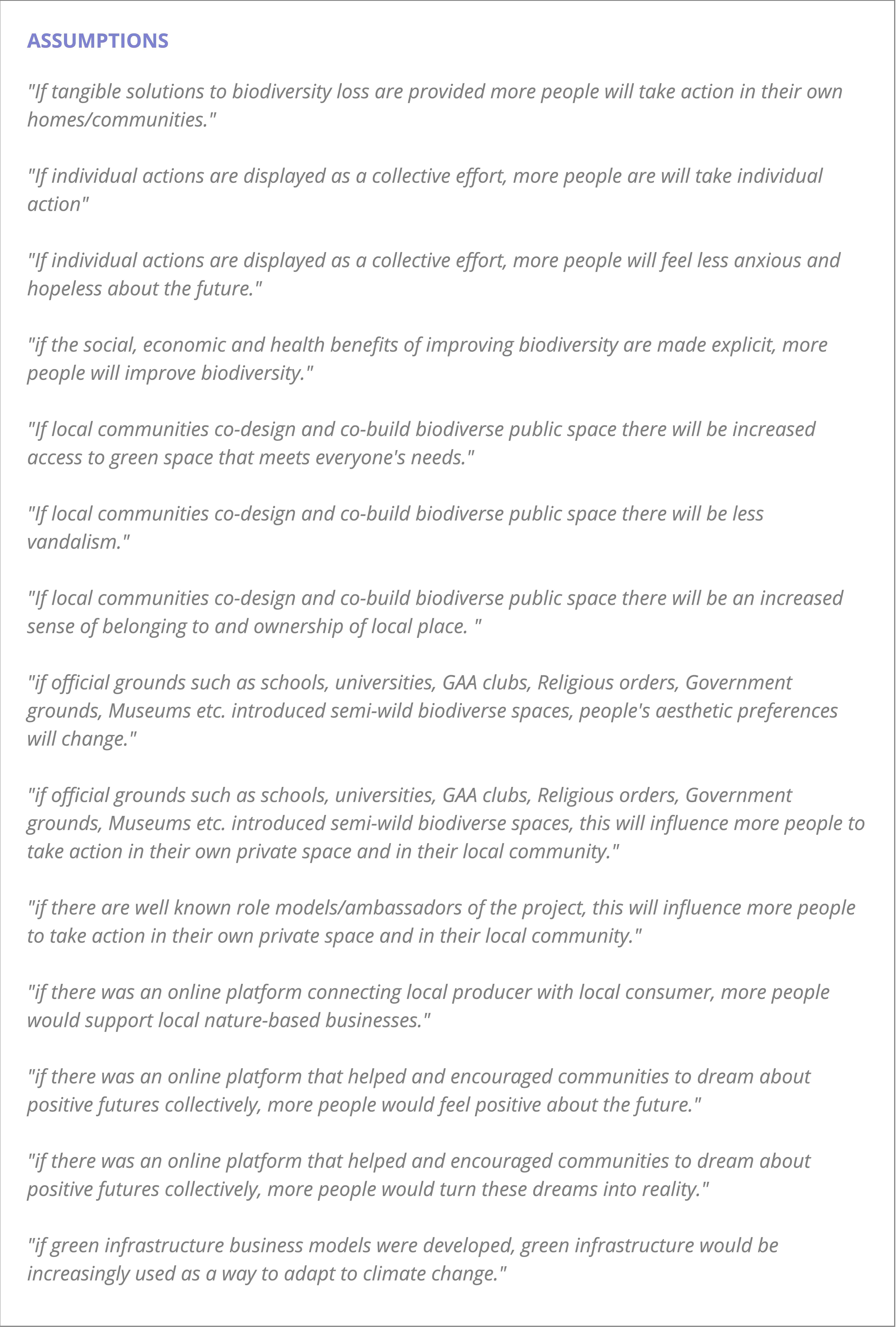 Assumptions articulated as part of my Theory of Change
I developed a list of 'measures of success' such as the number of people engaging with the platform, local biodiversity levels, noise levels, obesity levels and levels of vandalism. Then, using with the Lean UX hypotheses template, I turned my assumptions into testable form.
Personas

I developed five personas to gain a detailed understanding into stakeholder behaviours, attitudes, needs and goals. The process enabled me to design with empathy, generate new ideas and determine the functionality of the intervention in a way that satisfies diverse stakeholders.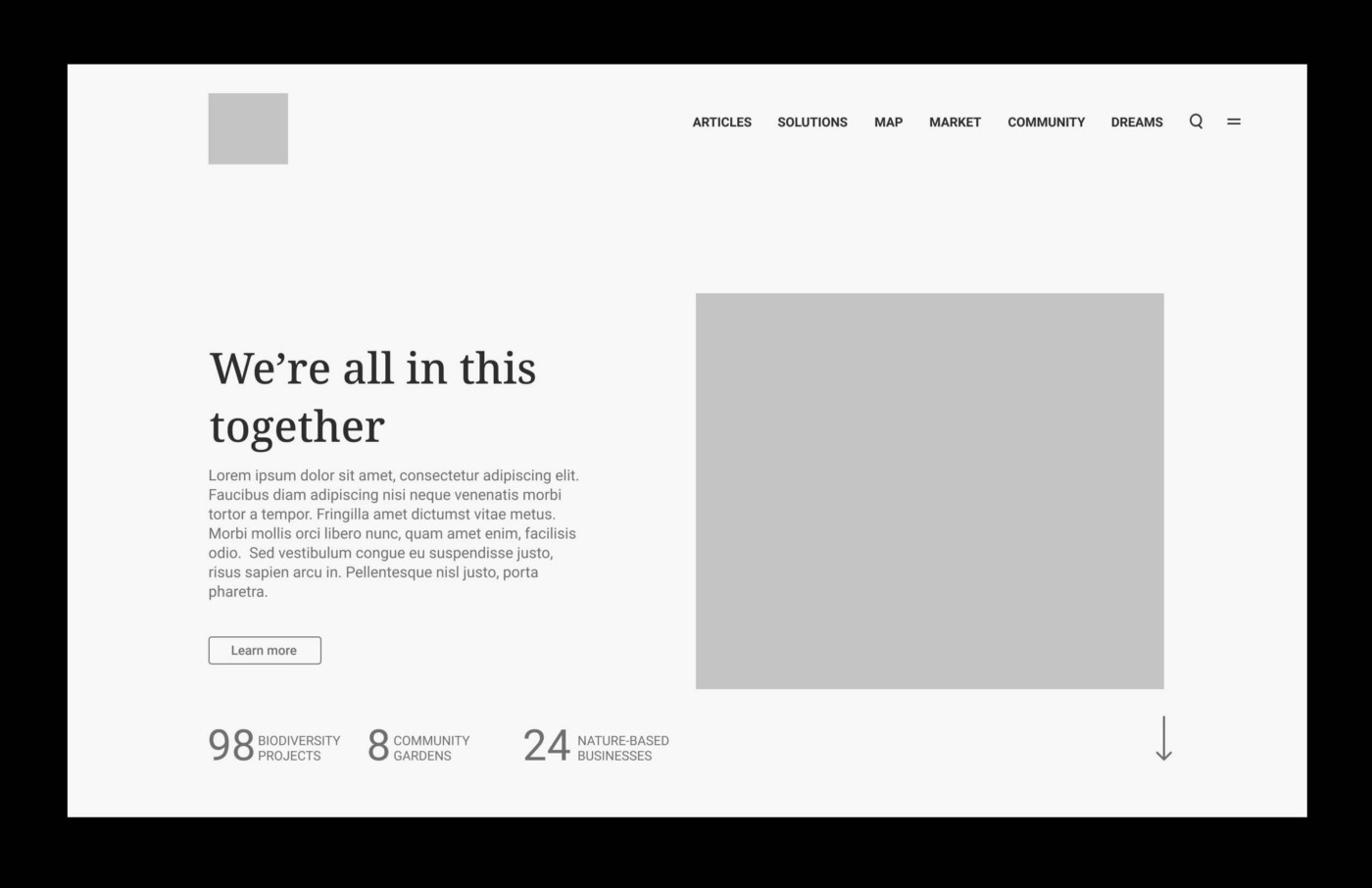 Prototyping and Content Design

I found that TD offers little practical guidance to get from research to a tangible intervention.


I believe that Prototyping, an integral part of UXD, can be integrated to help overcome this. Prototyping is an effective way to test ideas, iterate and make improvements. I used prototyping primarily as a way to gather usability feedback on low and medium-fidelity prototypes. I also found it a helpful process to visualise ideas and compare different structures, information architecture and content design.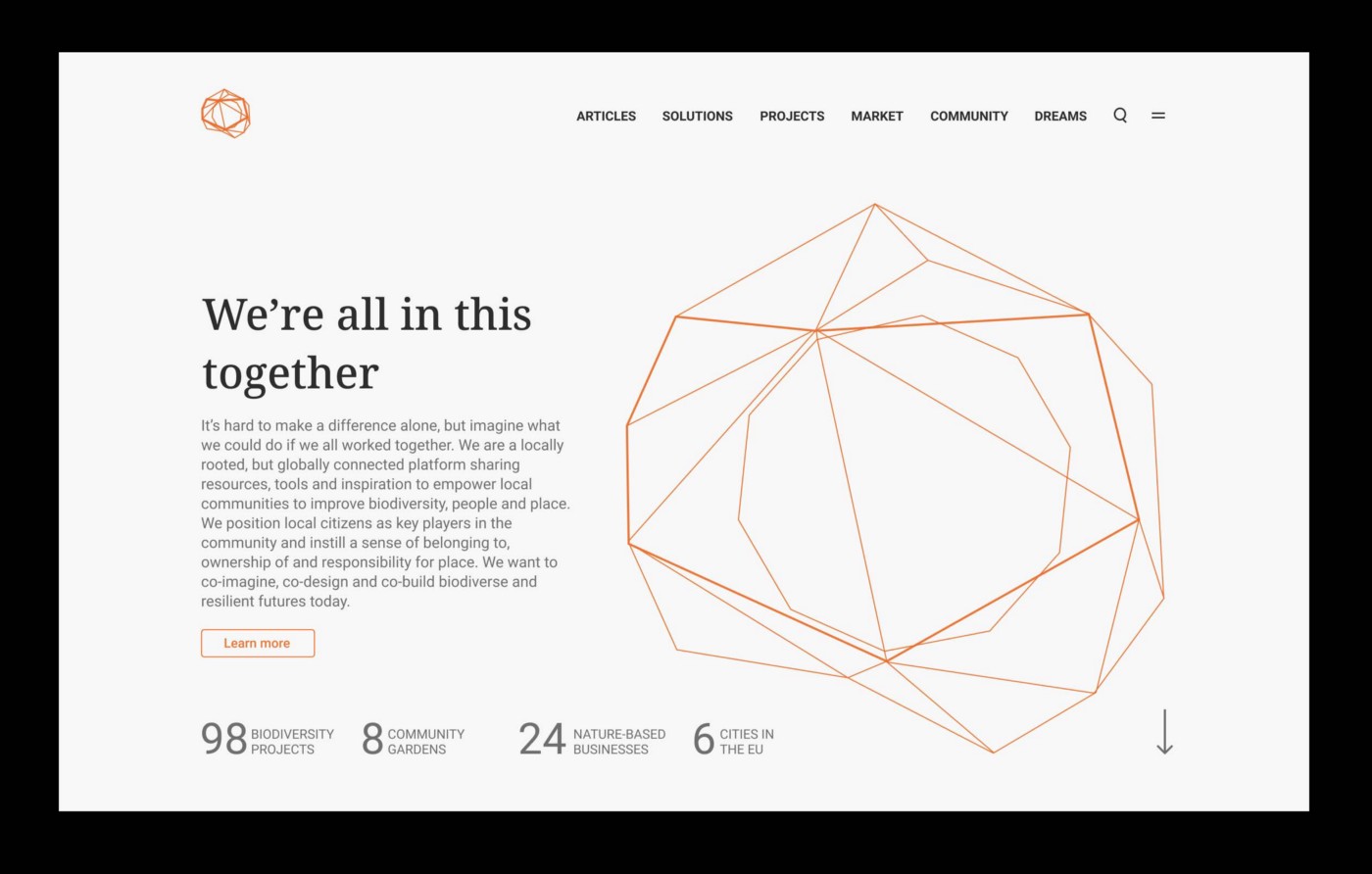 I paid particular attention to content design when designing the medium-fidelity prototypes. Having analysed and synthesised all research I decided that a combination of illustrations, numbers, links and words would be primarily used to communicate information.


Research found that we lack a culture of public imagination, that stakeholders feel anxious and hopeless about the future and that stakeholders have a lack of time. Illustrations are used as a quick and easy way to digest lots of information and most importantly to communicate the future as plural and positive. These illustrations give a taste of what the future could be like, but leave room for the imagination.
Research also shows that social inertia persists because people believe that individual actions will not make a difference. For this reason I decided to display individual efforts as a collective whole. I communicate this through numbers on the home page: the collective number of biodiversity projects, community gardens, nature based-businesses and cities involved (see above).






Words make up the majority of the content, so I spent time shaping the tone of voice.
Information about climate change and biodiversity loss is often communicated using overly scientific language and framed as a looming apocalypse. I decided to speak the audience's language, use encouraging phrases and most importantly have some fun!
Remote Usability Testing helped me to uncover usability problems and opportunities for improvement and refinement, critically before spending lots of time and effort designing high-fidality prototypes.

While the data collected was useful in terms of evaluating the usability of my designed intervention, it did not provide the data necessary to evaluate whether the intervention is contributing to transition. Hypotheses, as discussed previously, will provide this data and will be tested during the course of the transition.







Potentially Negative Feedback Loops
I developed a new method called "Potentially Negative Feedback Loops', which could be useful for other TD practitioners. Taking a systems view, this exercise asks practitioners to take responsibility for the potential negative consequences of their interventions.


Starting at the future vision in which the problem has been solved, I articulated various 'new realities' and considered their potential negative feedbacks on a specific scale.

Impact

Transition Design is an emerging and still largely theoretical design discipline. This research engages with it, critiques it, explore its limitations, and in doing so further develops it.


While TD is strong on the understanding the big picture, identifying all the stakeholders and envisioning alternative futures, I found in practice that it can be progressed by incorporating elements of UX – a suitable adaption of Lean UX, personas, and prototyping.

I also developed a new method called 'Potentially Negative Feedback Loops' which might prove useful for other Transition Designers. It helps practitioners to anticipate the potentially negative consequences of their intervention so that appropriate measures to mitigate these can be implemented in advance.

Finally, I developed a working prototype called Urabist. It is an online platform that provides actionable solutions, education and tools to increase civic engagement in the face of biodiversity loss, and a space to imagine positive visions of a biodiverse future collectively.