---
The Opportunity:
Document, preserve & celebrate female Irish traditional musicians from the early to mid 20th century on a larger scale.
The Outcome:
An online archival crowdsourcing platform that combines function with feeling to create an accessible and immersive experience. Launching in 2021.

Sector:
Arts & Culture

My Role:
UX Designer, Interaction Designer, UI Designer

When:
2020
Background:
One day myself and a good friend Doireann Glackin asked ourselves: where were all the women in Irish Traditional Music during the last century? Then began a two-year road trip as we attempted to find the answers.
Our enquiries yielded the goods. We uncovered many outstanding women musicians throughout the country. We spoke with their family members and friends as well as figures in the Irish music community and learned that they were well regarded amongst their contemporaries.
However, our conversations revealed that as a result of family commitments and the social norms of the day, their music-making was largely confined to the home. Only a small number had the opportunity to record commercially, and this goes some way towards explaining why many never got the recognition they deserved.
The project culminated in the recording of our debut duet album with repertoire drawn from 5 selected women.
(check out the album here!)
During our research many other women were spoken about (and we know that this was just the tip of the iceberg), but we simply didn't have the means to carry out in-depth research on everyone.
Identifying the opportunity, hypotheses and user groups provided focus and guidance towards an appropriate design solution.
Unsettled by the thought of loosing important elements of our cultural heritage, I saw an opportunity to develop an online crowdsourcing archive that enables citizens to upload and search content relating to women musicians from the early- to mid-20th century.


Having conducted a survey and interviews, three target users were identified.
1. 'The Uploader' (Age 60+)
Relatives who want to upload content.
2. 'The Searcher' (Age 30+)
Musicians and archivists researching the music of previous generations.
3. 'The Browser' (Age 20+)
Musicians with an interest in the music of previous generations.

Three Personas were developed in order to empathise with the three target users groups.
Design Opportunities
1. Uploading content with a Guided Task Completion.

Enbaling users to upload content easily is fundamental to the success of the archive. I designed an interactive Guided Task Completion that enables users to upload content in a series of small, simple steps along with a Progress Tracker that creates a clear path to completion. It also prompts users with questions that help them organise their content in a logical way.


2. Navigate where you want with one tap.

The primary navigation bar, a consistent features across the platform, acts as an entry point to each target users' goals and allows them to understand where they are and get where they want to with one tap/click. It's quick, clear and practical.


Minimum Viable Product

I prioritised features according to identified user needs. They were tested first and as early as possible, minimising project waste.
Features: Search & Advanced Search, Discover Page, Musician's Profile Page, Upload with Guided Task Completion, Nav Bar
Prototyping: Low-Fidelity
Paper prototypes
I quickly sketched out paper prototypes and experimented with various forms. I designed for mobile first and then scale up to different devices.

Having settled upon one option, I translated the design into Figma and carried out user testing with 3 participants.
Prototype: Low-Fidelity
Low-Fidelity Prototype in Figma
I acquired important insights through early user testing that informed medium- and high-fidelity prototypes.


User testing confirmed:
1. There was too many entry points on the home screen which was confusing and overwhelming.

2. The search feature was confusing and could be simplified.

3. It is not clear where to find the advanced search
on certain pages.

4. Spacing was too close together in some instances
(especially the alphabet).

5. Participants enjoyed swiping on the discover page.

6. Participants were interested in the concept.
Prototype: Medium-Fidelity
Medium-fidelity prototype in Figma.

User testing confirmed:
1. The search feature was simple and easy to navigate.

2. The advanced search button was clearly visible on all pages.

3. System status was visible on all pages and the platform was easy to navigate.

4. Spacing issues were resolved.

5. Participants would prefer icons on the bottom navigation bar.

6. Participants were interested in the concept.


Combining Function With Feeling
I combined function and feeling. I didn't just want to help users complete their goals, I also wanted to create emotion. I wanted to celebrate unsung heroes who never got the recognition they deserved and to create a richer cultural heritage that people would want to connect with. Visual language, tone of voice and micro-interactions were central to the creation of this feeling.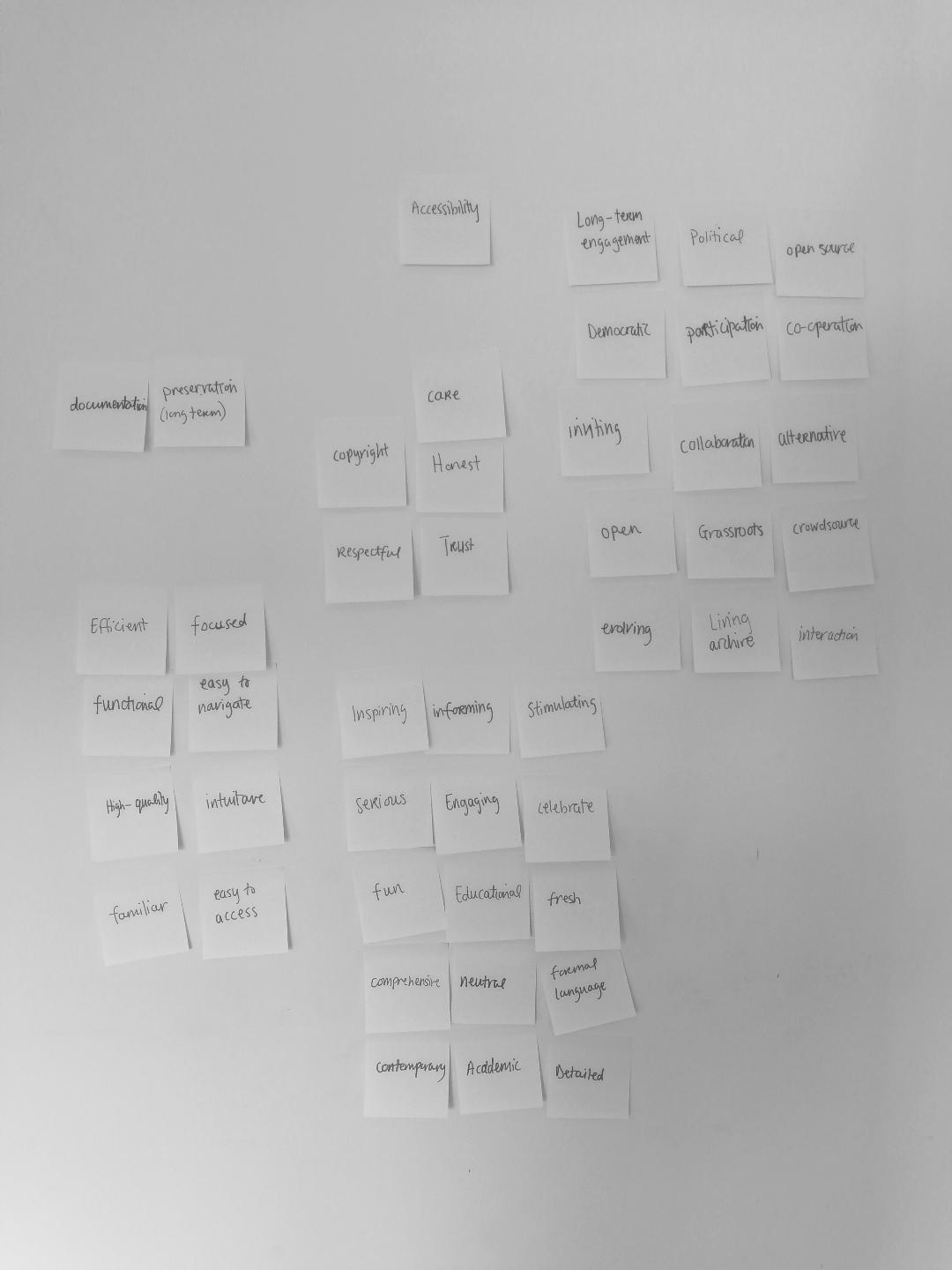 An image from a brainstorming session exploring brand attributes: the look, feel, tone of voice and values.
Having determined the full functionality of the platform and defined brand attributes, I then focused on developing the UI further and designed a high-fidelity prototype. After numerous rounds of usability testing I scaled to fit various devices.
The Result:

A Prototyped online archival crowdsourcing platform that combines function with feeling to create an accessible and immersive experience. After deployment in 2021, it has the potential to compliment the official archive by collecting and preserving the lives and music of female musicians who have largely been overlooked.

A Solution going forward:
There will still however a problem with acquiring material from those without reliable internet connection. One solution to this would be to hold archiving sessions at popular music festivals in rural areas where family members/friends are likely to attend. They could be asked to bring their material and volunteers could help them upload the content there and then.





Prototype: High-Fidelity
High-Fidelity Prototypes