---
Education
MA UX & Interaction Design
TU Dublin (2019-2020)
Grade: 1:1
BA (Hons) Photography
TU Dublin (2012-2016)
Grade: 2:1
Skills
Human-Centred Design, Transition Design Methodologies, Systems Thinking, Critical Thinking, User Interviews, Surveys, Personas, Experience Maps, User Journeys, Agile Methodologies, Wireframing, Prototyping, Information Architecture, Usability Testing, User Interface Design, Photography, working knowledge of HTML, CSS and JavaScript.
Tools
InVision, Figma, Adobe Creative Suite.
Experience

Social Innovation Designer
The Big Idea
Dec 2020 - Present

UX & Transition Designer & Academic Researcher
Urbanist
May 2020 - Aug 2020
Developed a practical application of Transition Design (self-taught) to address declining urban biodiversity levels; and completed an academic paper which contributes new knowledge to the fields of UX and TD by exploring their strenghts and weaknesses as wel as their potential relationship. Conducted research using TD and UX methodologies including systems thinking, forecasting, backcasting, surveys, interviews, personas, and usability testing. Paid particular attention to content design to address user needs.


UX, UI & Interaction Designer
The Housekeepers (Online Archive)
Feb - May 2020
Generated a web-based crowdsourcing solution to address gender inequality in the traditional music archives. Developed the user experience, branding, user interface and interaction design. Developed and tested prototypes in Figma and coded a high-fidelity prototype in HTML, CSS & JavaScript. The platform will launch in 2021.

UX Researcher & Designer
RideShair
Nov 2019 - Jan 2020
Worked for RideShair to research, prototype, design and test their white label, digital platform that meets both business goals and user needs.

Programme Designer & Facilitator
5 Lamps Arts Festival
Jan - May 2019
Designed and facilitated a Design Thinking programme for primary school students called Project 45'. Worked in collaboration with St. Vincents GNS William Street North, 5 Lamps Arts Festival, Fighting Words and Royal Canal Amenity Group. Filmed for Nationwide and TRTÉ news2day.


Ethnographic Researcher, Project Manager, Musician & Self-Publisher
The Housekeepers (Research & Album)
Jan 2018 - May 2019Collaborated with researcher and musician Doireann Glackin. Conducted ethnographic research into the lives and music of 5 traditional female musicians from the early 20th century. Recorded and self-pubished an album accompanied by a 24-page booklet including writings from our research and archival photographs. Recorded, Mixed & Mastered by Jack Talty, Booklet design by Black Rogue Design. Awarded the DEIS recording award from the Arts Council of Ireland. Launcned and performed throughout Ireland and in the UK.





Awards & Accomplishments

Design
2020 'Re-imagining Alternative Futures', Creative Bravery Festival (workshop facilitator).

Photography (selected exhibitions, publications & awards)
2020 100 Views of Contemporary Ireland, PhotoIreland.
2019 New Irish Works, Museum of Contemporary Photography of Ireland.
2019 Artist in Residence, Cow House Studios, Wexford, Ireland.
2018 How To Flatten A Mountain, Rathfarnham Castle, PhotoIreland.
2018 PhotoIreland Scholarship recipient.
2017 Útlendingur, TLP Editions.
2017 RUA 136th Annual, Ulster Museum, Belfast, Northern Ireland.
2017 Iceview Magazine Vol 2.
2017 Artist In Residence, NES Artist Residency, Iceland.
2016 Mémoire instantanées, Université Paris 8 Saint-Denis, France
2016 The Copper House Gallery Collection.
2015 Photographer of the Year, DIT Student Media and Art Awards.

Music (selected performances, awards and recognitions)
2020 The Ace And Deuce of Piping, online concert.
2020 Irish Arts Center NYC, online concert.
2020 Performance in City Hall, Dublin.
2020 5 star review of 'The Housekeepers' in The Journal of Music.
2019 Launched and perfomed 'The Housekeepers' research project & album in Dublin, Cork, Kerry, Clare, Galway Mayo, Electric Picnic, London, Birmingham & on national tv and radio.
2018 Arts Council 'Deis Recording Award' recipient for 'The Housekeepers'.
2017 Performance in Museo Internazionale e Biblioteca Della Musica, Bologna, Italy.
2015 Performance at Expo Milan, Italy.

Sport
2007-2012 Dublin Camogie player.

---
The Opportunity:
Design a booking experience that meets both user and business needs.

The Outcome:
Prototyped a quick and easy booking experience, with features that put safety at the heart of every RideShair.


Sector:
Travel

My Role:
UX Designer, Interaction Designer, UI Designer.

When:
2019-2020

Background:
RideShair is a white-label, digital platform that enables airline passengers to share taxis to and from the airport. As a pre-paid and pre-booked service, it aims to provide a cheaper, faster, reliable and more sustainable mode of travel.

RideShair is an early stage Irish start-up. I worked with them on designing their booking experience.



Research Techniques:
User Survey, User Interviews, Personas, Customer Journey Map, Competitive Benchmarking & Usability Testing.
While I worked with RideShair specifically on their booking experience, I considered the entire user journey. Taking this holistic perspective enabled me to uncover potential pain points at other stages of the journey, that could be addressed at the time of booking.
User Survey
I conducted an online survey with 26 participants that represented the target audience: Solo travellers, business travellers, and budget holiday makers. It concentrated on understanding people's motivations towards ridesharing and identifying potential pain points.


Key Findings


38% had previously shared a ride with someone they didn't know using apps such as Uber and Lyft.
65% had not previously shared a taxi with someone
from their flight.
80% would consider sharing a taxi with someone from their flight.
People arrange their transport to & from the airport at different stages. The most common were: 'when booking flights', 'a few weeks in advance', 'within a week of departure', 'the day before', 'last minute' and 'in situ'.
For those who had previously shared a taxi with someone from their flight, these a the following issues they had encountered: 'being overcharged', 'miscommunication', 'a language barrier', 'not feeling safe' and 'not getting dropped of at the exact destination'.
'Reduced fare' was the most common reason why people would choose to rideshare. Other notable reasons were convenience, safety and organisation.




User Interviews

I conducted 5 in depth interviews that were centred around understanding people's needs and goals during both the booking and the ridesharing experience.
Key Findings


Booking experience
"When booking, I'd want to see both shared price and typical price."
"I would want to view the route and how long it will take."

"I'd like to see photographs, names and ratings of the drivers and other passengers... for safety reasons"

"it would potentially be a great way to meet people when travelling alone. I'd like to book into a taxi with other travellers my own age.

Ridesharing Experience:

"I would need to feel safe."

"I would like to see a map of the route in real time so I know I'm not being taken astray."


"Airports can be stressful and hard to navigate so I would need to know where exactly to meet the driver. A map might be helpful. Or a way to contact the driver."

"I shared before and it was unreliable and there was no-one to ask for help or complain to"

"If I was delayed would the taxi wait for me? What if another passenger was delayed, I wouldn't want to wait?"



Personas
Competitive Benchmarking

Customer Journey Map

User Research Analysis and Design Opportunities
1. Design for safety

A safe RideShairing experience is paramount to success. A number of features that could improve safety before the ride has even begun, were identified.1. Women's only ridesharing groups 2. Driver ratings
3. Choose driver's language
4. View driver's name & vehicle registration

2. Design an efficient booking experience

An incredibly fast booking experience is required so RideShair can compete with the likes of UBER.
1. Eliminate unnecessary steps.
2. Minimal UI reducing cognitive load.
3. Search by Saved Places.
4. Recommended taxi groups (cheapest, fastest, women's only, eco-friendly).
5. Saved cards and control over payment method.


3. Design an efficient ridesharing experience


People traveling are often time sensitive and anxious and unfamiliar airports can be difficult to navigate. A number of features that could ensure pick-ups are fast, effortless and stress free, were identified.
1. Checked baggage determines taxi groups.
2. Save booking and driver details.
3. Message the driver post-book.




Prototyping The Booking Experience
I prototyped the booking experience at low- theough medium- to high-fidelity according to prior research findings, identified design opportunities and usability testing results. Defining the minimal number of steps necessary to complete a booking was the critical first step.
Task Flow Diagram
Paper Prototype (within Ryanair)

Medium-Fidelity Prototype (within Ryanair)
Usability Testing Insights


Successes:
- Checked baggage is a good idea.
- Enjoyed CTAs 'LET's GO' & 'Welcome Aboard' & personalised content. - Liked the idea of recommended groups. - Easy to nagivage back to desired location. - System status is clear throughout.

Room for improvement:
- Flight details too small.
- Information overload on the groups page.- Female only icon does not stand out enough.
- Not clear that you can click the Filters.
- 'Create new group' button is unclear.
- 'Create new group' placement makes it look as if it's the primary action.
- Create group was time consuming and choosing times was confusing.
- 'Time before taxi cut-off' is confusing.
- Doesn't like the idea of uploading passport. - Would like more group recommendations.
- Would like to see an image of the driver & vehicle. - Suggested 'saved places' feature on home page.
- Suggested the ability to share flight details with contacts.
High-Fidelity Prototype

Testing uncovered usability problems, particularly cognitive overload, accessibility issues and visual
hierarchy issues.

During the next iteration I paid much attention to 3 guiding principles: 'Less is more', 'design for legibility and readability' and 'match users mental models'.


Medium-Fidelity Prototype
High-Fidelity Prototype
Medium-Fidelity Prototype
High-Fidelity Prototype
Medium-Fidelity Prototype
High-Fidelity Prototype
Usability Testing Insights


Successes:
On average users were able to complete tasks 40 seconds faster using the high-fidelity prototype. These were some other things they said:
- The taxi group page is very clean.
- Navigation and completing goals is easy.
- Image of the destination adds a sense of excitement.
- Liked the swiping interaction on groups and cards.
- Vehicle registration and in-built messaging is handy.

Room for improvement:
- Input for 'pick up' and 'destination' could be clearer.
- Should 'female only' be renamed as 'women's only'?
- Doesn't like having to select gender.
- Suggested 'enable finger login' for speed.

---
The Opportunity
Explore the feasibility and effectiveness of Transition Design in practice as well as its potential relationship with UX.

The Outcome:
A research paper contributing new knowledge to the fields of TD and UX. Prototyped an online website (Urbanist) that provides actionable solutions, education and tools to increase civic engagement in the face of biodiversity loss, as well as a space to imagine positive vision of the future collectively.

Sector:
Sustainable Cities
My Role:
Transition Designer, UX Designer, Academic Researcher
When:
2020
Background
Transition Design is an emerging, largely theoretical and evolving design 'approach' that aspires to enable practitioners to better address systemic problems and to facilitate societal transition towards more sustainable futures. My research set out to explore whether TD could be progressed by incorporating elements of UX and whether a practical application of TD could help people overcome social inertia in the face of anthropogenic Climate Change. In addition, as there are very few practical application of TD, I also aimed to explore the feasibility and effectiveness of this emerging approach in practice. I prototyped 'Urbanist' a website with the potential to facilitate local action to improve biodiversity levels, and by doing so, challenging inertia.
Read a detailed account here.
Download the full version of the map here.
My Transition Design approach in images

Research Analysis: Zooming in and zooming out
I discovered limitations of the TD approach and explored whether UXD methodologies could be applied to enhance it.
While TD is strong on understanding the big picture and in identifying all the stakeholders, I found it poor in identifying the specifics of stakeholder needs, behaviours and attitudes. Furthermore, there are very few methods available to evaluate the effectiveness of an intervention and it offers very little in the way of guidance or prescribed steps to get from research to a working model.
I believe that TD can be enhanced by incorporating a selection of UXD research methodologies. I conducted a survey, incorporated an adaption of Lean UX, developed personas, prototyped and conducted remote usability testing.

Incorporating UXD research methodologies

Survey

Having conducted a survey with 84 strategically sourced participants I interpreted results using thematic analysis and discussed various potential solutions, including 'Commoning as an Approach' and 'A Life-Centred Approach to Re-wilding The City'.


Commoning as an Approach
Data reveals that the majority of participants thought Government Bodies are most responsible for improving and maintaining biodiversity levels in their local area. As it is unfeasible for Government bodies to maintain all public space, this suggests a contradiction or a confusion about who is responsible.

I propose Commoning as an approach that positions local citizens as key players in the community and instills a sense of belonging to, ownership of and responsibility for public space. Public space designed by and for the local community could have the potential to better meet the mental and physical needs of the local community.

A Life-Centred Approach to Re-wilding The CityData suggests that aesthetic preferences are a main barrier to improving biodiversity levels, with many participants stating they prefer manicured spaces.

Taking a 'life-centred approach' to rewilding the city could help to change stakeholders' perceptions and find the balance between the needs of all species. Humans do have a need for manicured spaces; we need able to move around and feel safe, but other species have a need for wilder spaces. The task then is the find the correct balance between wild and cultivation.




Incorporating an Adaption of Lean UX Principles and Practices
Socio-technical transitions are slow and complex. So, it can be argued that Lean cycles, which have been designed to address market speed are too short to imagine, influence and evaluate transition. However, as an outcome-focused process, I believe that incorporating an adaption of Lean UX principles and practices can advance the project of Transition Design.

In my view, one of the main limitations of Transition Design is its lack of methods developed for evaluating interventions. This means it can be difficult to determine whether an intervention is actually helping to reach the desired vision. Given its strong focus on measuring success and failure, a suitable adaption of Lean UX could improve this. Applying the Lean UX template, I was able to transform assumptions articulated as part of the 'Theory of Change' exercise into testable form.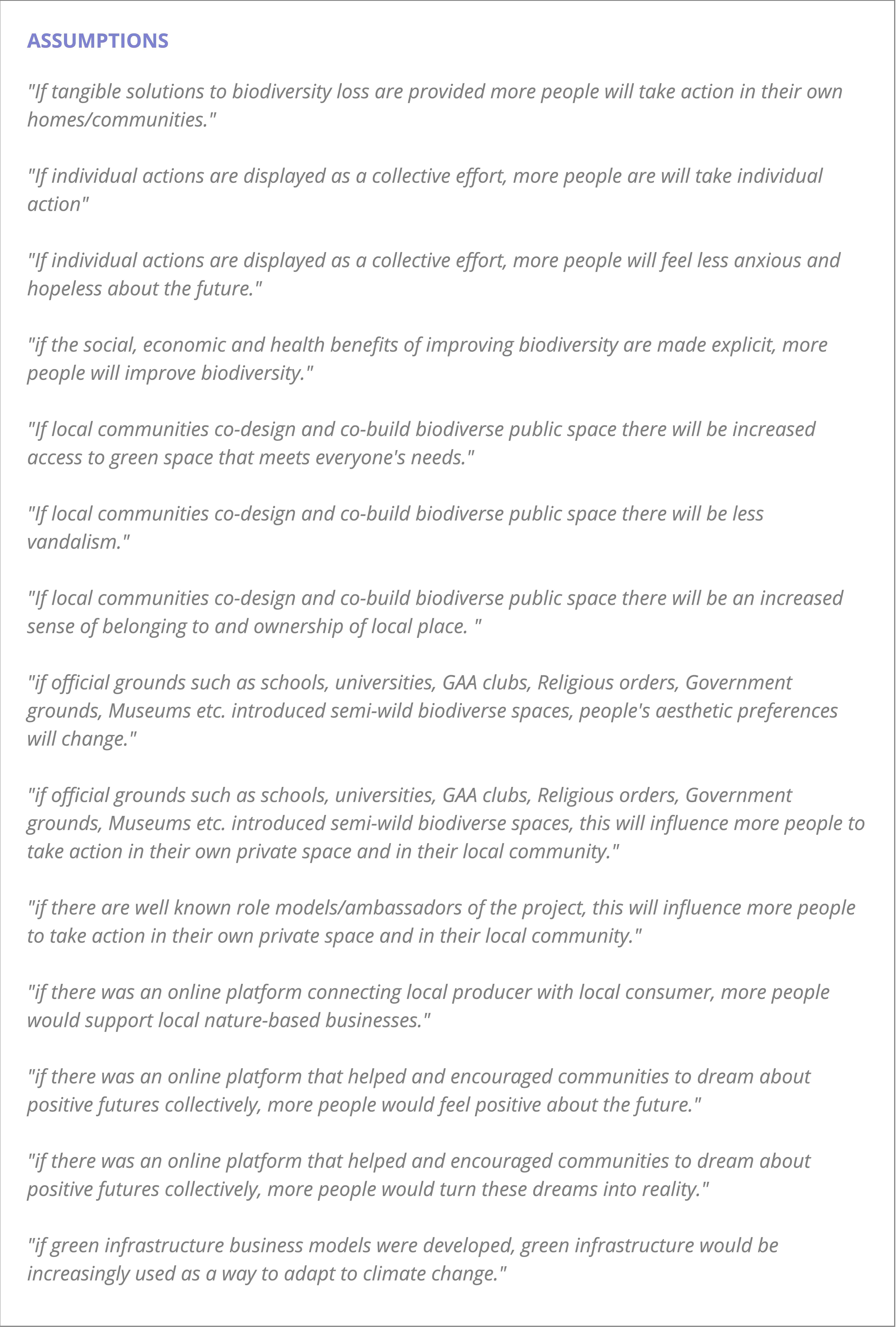 Assumptions articulated as part of my Theory of Change
I developed a list of 'measures of success' such as the number of people engaging with the platform, local biodiversity levels, noise levels, obesity levels and levels of vandalism. Then, using with the Lean UX hypotheses template, I turned my assumptions into testable form.
Personas

I developed five personas to gain a detailed understanding into stakeholder behaviours, attitudes, needs and goals. The process enabled me to design with empathy, generate new ideas and determine the functionality of the intervention in a way that satisfies diverse stakeholders.
Prototyping

I found that TD offers little practical guidance to get from research to a tangible intervention.
I believe that Prototyping, an integral part of UXD, can be integrated to help overcome this. Prototyping is an effective way to test ideas, iterate and make improvements. I used prototyping primarily as a way to gather usability feedback on low and medium-fidelity prototypes. I also found it a helpful process to visualise ideas and compare different structures, information architecture and content design.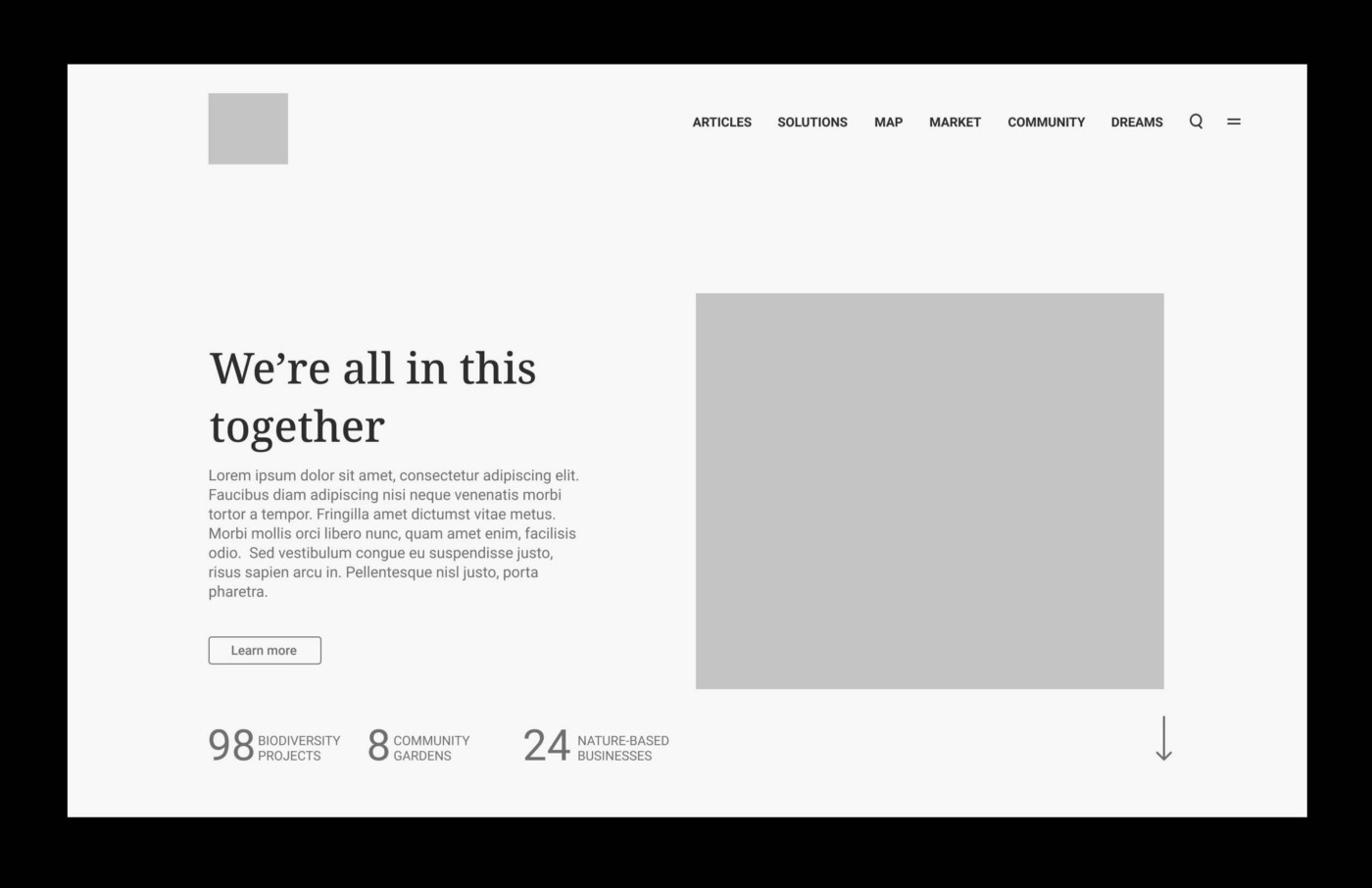 Low-Fidelity Prototype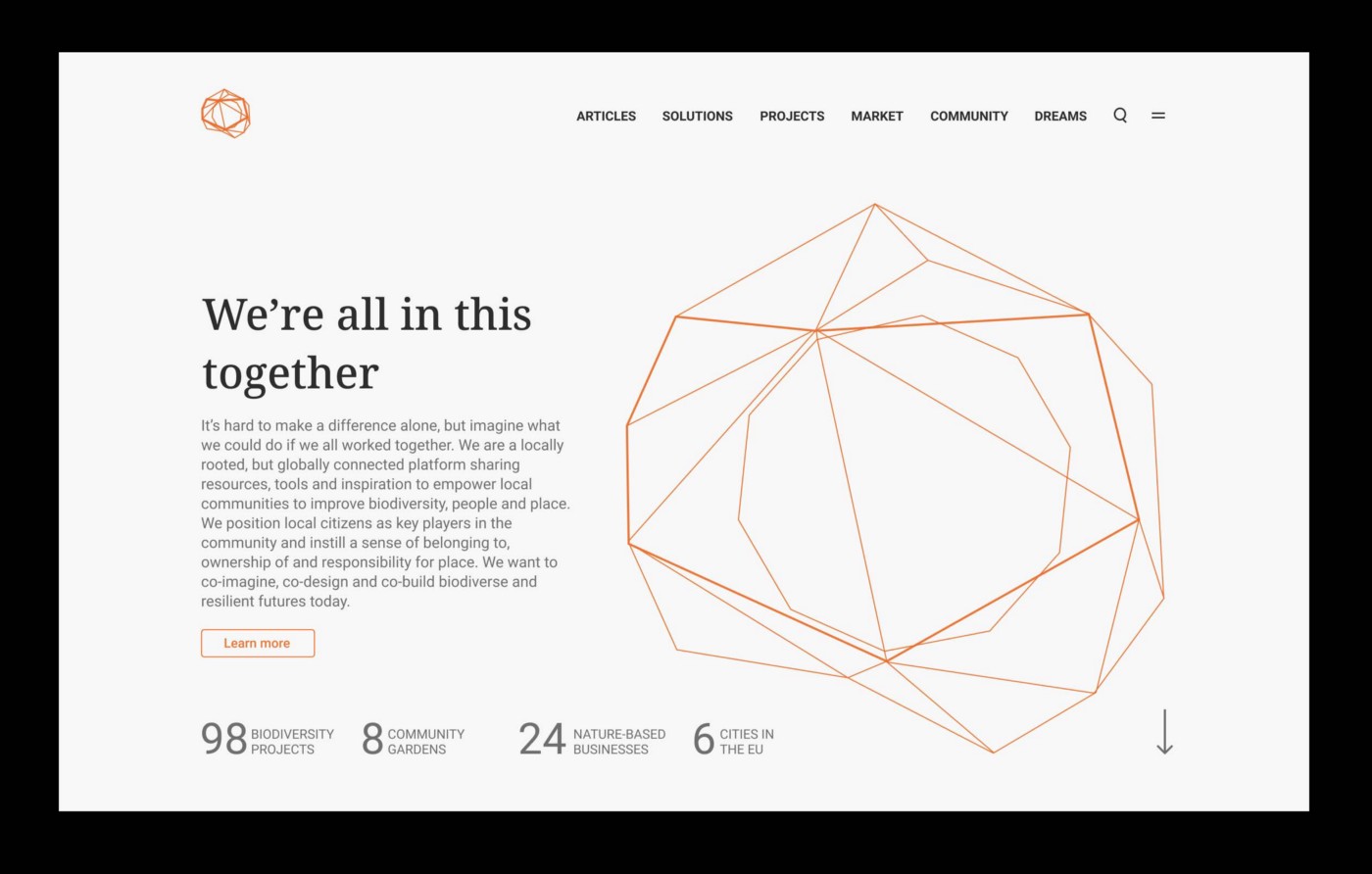 Medium-Fidelity Prototype
Remote Usability Testing helped me to uncover usability problems and opportunities for improvement and refinement, critically before spending lots of time and effort designing high-fidelity prototypes.

While the data collected was useful in terms of evaluating the usability of my designed intervention, it did not provide the data necessary to evaluate whether the intervention is contributing to transition. Hypotheses, as discussed previously, will provide this data and will be tested during the course of the transition.
Potentially Negative Feedback Loops
I developed a new method called "Potentially Negative Feedback Loops', which could be useful for other TD practitioners. Taking a systems view, this exercise asks practitioners to take responsibility for the potential negative consequences of their interventions.


Starting at the future vision in which the problem has been solved, I articulated various 'new realities' and considered their potential negative feedbacks on a specific scale.




Impact

Transition Design is an emerging and still largely theoretical design discipline. This research engages with it, critiques it, explore its limitations, and in doing so further develops it.


While TD is strong on the understanding the big picture, identifying all the stakeholders and envisioning alternative futures, I found in practice that it can be progressed by incorporating elements of UX – a suitable adaption of Lean UX, personas, and prototyping.

I also developed a new method called 'Potentially Negative Feedback Loops' which might prove useful for other Transition Designers. It helps practitioners to anticipate the potentially negative consequences of their intervention so that appropriate measures to mitigate these can be implemented in advance.

Finally, I developed a working prototype called Urbanist. It is an online platform that provides actionable solutions, education and tools to increase civic engagement in the face of biodiversity loss, and a space to imagine positive visions of a biodiverse future collectively.
---
The Opportunity:
Document, preserve & celebrate female Irish traditional musicians from the early to mid 20th century on a larger scale.
The Outcome:
An online archival crowdsourcing platform that combines function with feeling to create an accessible and immersive experience. Launching in 2021.

Sector:
Arts & Culture

My Role:
UX Designer, Interaction Designer, UI Designer

When:
2020
Background:
One day myself and a good friend Doireann Glackin asked ourselves: where were all the women in Irish Traditional Music during the last century? Then began a two-year road trip as we attempted to find the answers.
Our enquiries yielded the goods. We uncovered many outstanding women musicians throughout the country. We spoke with their family members and friends as well as figures in the Irish music community and learned that they were well regarded amongst their contemporaries.
However, our conversations revealed that as a result of family commitments and the social norms of the day, their music-making was largely confined to the home. Only a small number had the opportunity to record commercially, and this goes some way towards explaining why many never got the recognition they deserved.
The project culminated in the recording of our debut duet album with repertoire drawn from 5 selected women.
(check out the album here!)
During our research many other women were spoken about (and we know that this was just the tip of the iceberg), but we simply didn't have the means to carry out in-depth research on everyone.
Identifying the opportunity, hypotheses and user groups provided focus and guidance towards an appropriate design solution.
Unsettled by the thought of loosing important elements of our cultural heritage, I saw an opportunity to develop an online crowdsourcing archive that enables citizens to upload and search content relating to women musicians from the early- to mid-20th century.


Having conducted a survey and interviews, three target users were identified.
1. 'The Uploader' (Age 60+)
Relatives who want to upload content.
2. 'The Searcher' (Age 30+)
Musicians and archivists researching the music of previous generations.
3. 'The Browser' (Age 20+)
Musicians with an interest in the music of previous generations.

Three Personas were developed in order to empathise with the three target users groups.
Design Opportunities
1. Uploading content with a Guided Task Completion.

Enbaling users to upload content easily is fundamental to the success of the archive. I designed an interactive Guided Task Completion that enables users to upload content in a series of small, simple steps along with a Progress Tracker that creates a clear path to completion. It also prompts users with questions that help them organise their content in a logical way.


2. Navigate where you want with one tap.

The primary navigation bar, a consistent features across the platform, acts as an entry point to each target users' goals and allows them to understand where they are and get where they want to with one tap/click. It's quick, clear and practical.


Minimum Viable Product

I prioritised features according to identified user needs. They were tested first and as early as possible, minimising project waste.
Features: Search & Advanced Search, Discover Page, Musician's Profile Page, Upload with Guided Task Completion, Nav Bar
Prototyping: Low-Fidelity
Paper prototypes
I quickly sketched out paper prototypes and experimented with various forms. I designed for mobile first and then scale up to different devices.

Having settled upon one option, I translated the design into Figma and carried out user testing with 3 participants.
Prototype: Low-Fidelity
Low-Fidelity Prototype in Figma
I acquired important insights through early user testing that informed medium- and high-fidelity prototypes.


User testing confirmed:
1. There was too many entry points on the home screen which was confusing and overwhelming.

2. The search feature was confusing and could be simplified.

3. It is not clear where to find the advanced search
on certain pages.

4. Spacing was too close together in some instances
(especially the alphabet).

5. Participants enjoyed swiping on the discover page.

6. Participants were interested in the concept.
Prototype: Medium-Fidelity
Medium-fidelity prototype in Figma.

User testing confirmed:
1. The search feature was simple and easy to navigate.

2. The advanced search button was clearly visible on all pages.

3. System status was visible on all pages and the platform was easy to navigate.

4. Spacing issues were resolved.

5. Participants would prefer icons on the bottom navigation bar.

6. Participants were interested in the concept.


Combining Function With Feeling
I combined function and feeling. I didn't just want to help users complete their goals, I also wanted to create emotion. I wanted to celebrate unsung heroes who never got the recognition they deserved and to create a richer cultural heritage that people would want to connect with. Visual language, tone of voice and micro-interactions were central to the creation of this feeling.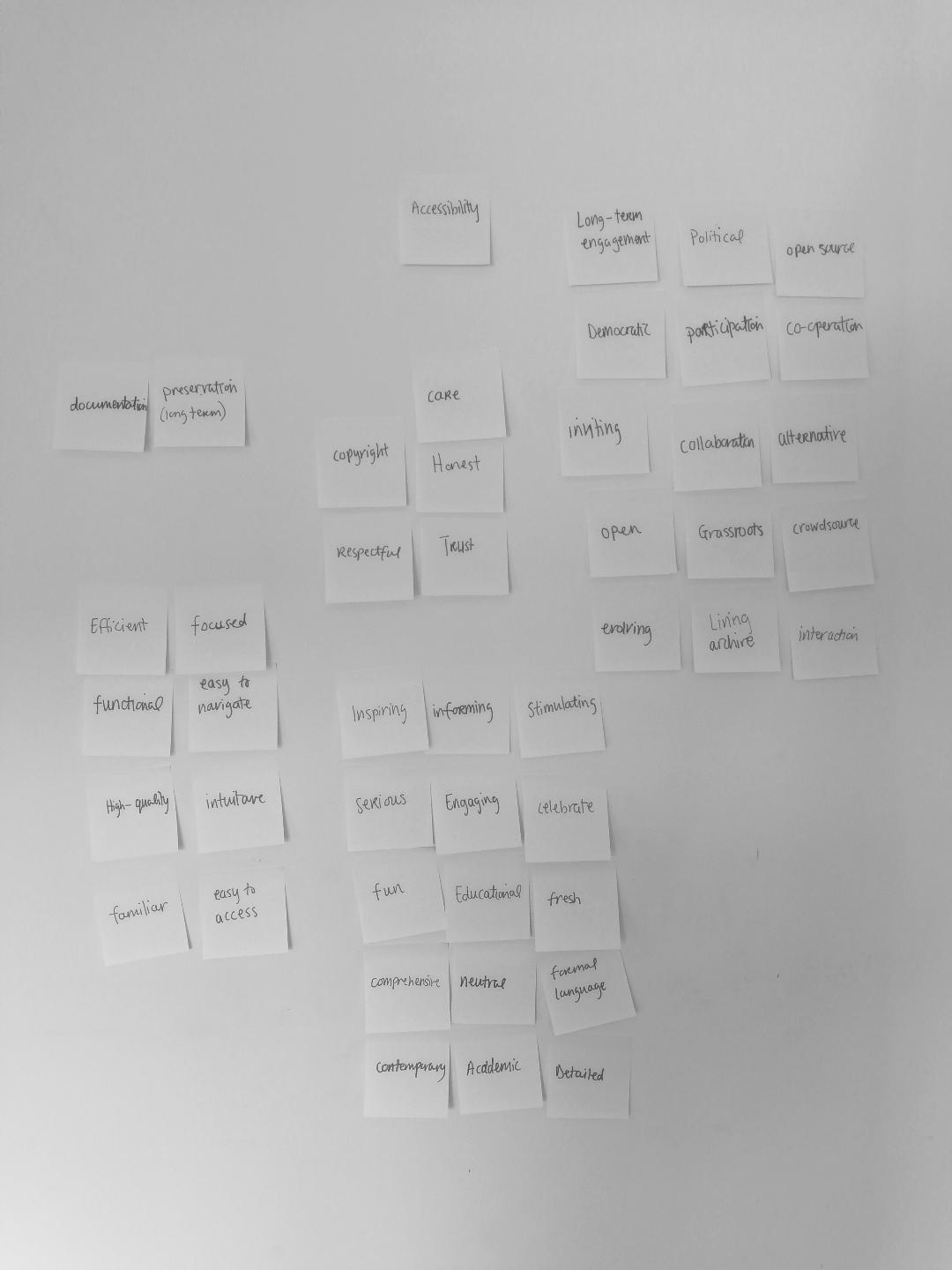 An image from a brainstorming session exploring brand attributes: the look, feel, tone of voice and values.
Having determined the full functionality of the platform and defined brand attributes, I then focused on developing the UI further and designed a high-fidelity prototype. After numerous rounds of usability testing I scaled to fit various devices.
The Result:

A Prototyped online archival crowdsourcing platform that combines function with feeling to create an accessible and immersive experience. After deployment in 2021, it has the potential to compliment the official archive by collecting and preserving the lives and music of female musicians who have largely been overlooked.

A Solution going forward:
There will still however a problem with acquiring material from those without reliable internet connection. One solution to this would be to hold archiving sessions at popular music festivals in rural areas where family members/friends are likely to attend. They could be asked to bring their material and volunteers could help them upload the content there and then.





Prototype: High-Fidelity
High-Fidelity Prototypes
---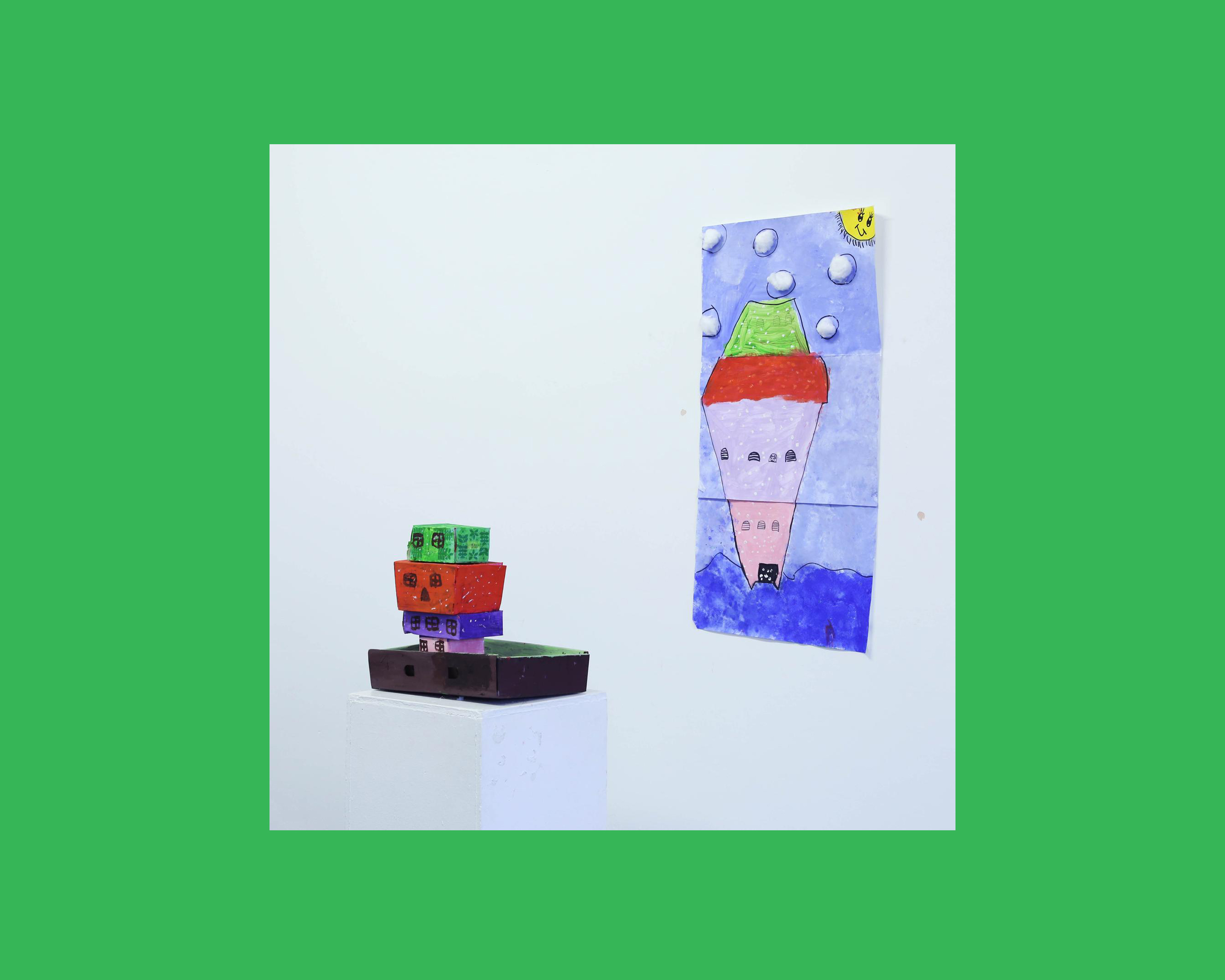 The Outcome:
Four bold visions for an alternative future of The Royal Canal, exhibited and filmed for Irish national television.

Sector:
Primary Education
My Role:
Programme Designer and Facilitator
When:
2019
I designed and facilitated Project 45', a Design Thinking programme for school children in collaboration with 5 Lamps Arts Festival, Royal Canal Amenity Group, Fighting Words and St. Vincent's GNS William Street North.

2019 marked 45 years since restoration began on The Royal Canal. Its potential as a recreational, educational and ecological amenity was recognised. Project 45' asked students (9-10yrs) to present visions of The Royal Canal over the next 45 years centred around the themes of sustainability, climate change and community development. It culminated in an exhibition that was filmed for RTÉ Nationwide & TRTÉ news2day.










The Opportunity
Dublin's north inner city is a wonderful, diverse and vibrant place, but it faces enormous challenges associated with poverty, housing and dereliction. The 5 Lamps Arts Festival approached me to design a programme that would help the local community build pride of place and start to address issues like safety and dumping. Together we identified The Royal Canal as a location with enormous future potential. 2019 also happened to be the canals 45th anniversary since it's first restoration.


I decided to design a programme for local school students (9-10yrs). Children are rarely encouraged to to actively participate in shaping their local area, and this, I believe, is a huge missed opportunity. As you will see later, children are aware of the challenges society is facing, and if given the opportunity they can bring imaginative ideas, fresh perspectives and the energy and fearlessness necessary to generate positive social change.


St Vincent's Girl's School looks over The Royal Canal. However, many of the students felt disconnected from it, saying it was dirty, unused and sometimes unsafe. Taking the canal as the subject matter helped the students to build a deeper connection with their local environment, develop a sense of agency in their community and increase their understanding about how to take action on global challenges, such as climate change, at a local level.
Project 45' was designed to be a socially engaging programme. It forced the students to look critically at their local area, engage in complex problem solving, and to dream bold.
3 core principles
1. Address locality. In an increasingly globalised and
individualised world, taking the local area as the subject matter helps students to connect with their local environment and culture, and to see themselves as active participants in their community.
2. Collaborate. Students are divided into small mixed ability groups. They must collaborate for the duration of the programme. This includes problem solving, sharing and being open to new ideas.
3. Serious play. The programme creates a playful and imaginative environment, but students go beyond simply having fun. They engage in complex problem solving and critical thinking.
Structure
1. Introduction (class)
2. History of the canal with the Royal Canal Amenity Group (class)
3. Identify problems today (class)
4. Formulate 'What if?' questions (group)
5. Introduce the themes of sustainability, climate change and community development. (class)
6. Identify problems (class)
7. Formulate 'What if?' questions (group)
8.Define future vision (group)
9. Creative writing at Fighting Words (class/group)
10. Low-Fidelity Prototype (group)
11. High-Fidelity Prototype (group)
12. Present (group)
13. Refine (group)
14. Exhibit at the 5 Lamps Arts Festival (class)
A selection of the 'what if questions' generated by the students. Each group chose one question, explored possibilities, formalised a future vision and later built prototypes.
The Outcome

The students collaborated on four visions, building prototypes for each:

1. St Vincent's school boat with an adjusted educational curriculum giving students more time to explore the nature along the canal. (sustainability & climate change)

2. Royal Canal annual birthday party & festival for everyone in the local community. (community development & sustainability)

3. Community play boat for local children, ran by local children. (community development)

4. Annual St. Vincent's canoe championship. (community development & sustainability)